Berkeley Archaeology

The Archaeological Research Facility Newsletter
Spring 1993 - Vol 1-1
---
Kent Lightfoot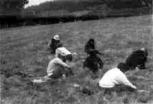 Since 1988, the Archaeological Research Facility has collaborated with the California Department of Parks and Recreation in the study of the Fort Ross State Historic Park. The Fort Ross survey and excavation is directed by Professor Kent Lightfoot, in close collaboration with Glenn Farris and Breck Parkman, state park archaeologists and ARF Research Associates. More than 100 undergraduate and graduate students from Berkeley have participated. The purposes of the investigation are twofold; one is to better understand the consequences of Russian exploration and settlement in California on local Indian populations. The other is to help develop a public interpretation program that will take visitors beyond the reconstructed Russian stockade to view the archaeological remains of the broader multi-ethnic community.
The historic Fort Ross community provides an ideal case to evaluate native responses to the early 19th century North American fur trade. Fort Ross was administered from 1812 to 1841 by the Russian-American Company, a mercantile monopoly that represented Russia's interests in the lucrative North Pacific fur trade. It served as a staging area for sea otter and fur seal hunts in northern California. The Russian-American Company recruited peoples from across Europe, North America and the Pacific Rim as part of their multi-ethnic workforce. Ethnic Russians made up a relatively small portion of the Ross community. The majority consisted of native Alaskan workers in which Koniag Eskimos dominated, followed by Chugach Eskimos, Aleuts, as well as Tanaina and Tlingit Indians from the Alaskan mainland. Other workers included Creoles (people of mixed Russian/native ancestry), Yakuts from Siberia, native Hawaiians, and at least one African-American. Kashaya Pomo and Coast Miwok peoples from nearby tribelets were recruited as laborers and as mates in the formation of inter-ethnic households.
The research team from the ARF and the Anthropology Department is addressing inter-ethnic interactions in a pluralistic mercantile colony.
Much of our recent research has been focused on the study of the Native Alaskan Village Site situated south of the Fort Ross stockade. Here resided Native Alaskan men and families, as well as inter-ethnic households composed of Koniag Eskimo men and Kashaya Pomo women. A detailed study of the site may provide information on the role that multi-ethnic relationships played in stimulating cultural change in colonial communities.
The field investigation has been conducted in three phases. In the first phase, completed in the summers of 1989 and 1991, a meticulous investigation of the landscape was undertaken, including contour mapping, surface collection of artifacts, and geophysical survey using remote sensing. Fourteen shallow surface depressions or leveled platforms were defined where concentrations of stone tools, glass and ceramic artifacts, and animal bones were found.
In the second phase, initiated in the summer of 1991, we tested whether these surface depressions represented former house locations with household refuse deposited around their perimeters. The excavation of two surface depressions revealed a dense concentration of animal bones, marine shells, fire-cracked rocks and redwood posts. The "bone bed" consisted of hundreds of faunal elements (sea mammal, terrestrial game, domesticated mammal, fish, marine shell), historical artifacts (ceramics, stone tools, glass items), and fire-cracked rocks.
The third phase of investigation in the summer of 1992 continued the excavation of the two surface depressions. The goal was to define the boundaries of the "bone beds" and to determine whether the surface depressions represent architectural features. Two large excavation blocks revealed three separate "bone beds" and at least two house structures, including a subterranean structure measuring about 6 meters in diameter and 70 to 80 cm. in depth.
The "bone beds" are unusual in coastal California sites. The bone and shell are large, intact specimens, representing a diverse range of animal species, including whale. Butchering marks are clearly visible on many of the skeletal elements. Complete abalone shells and limb bones suggest the materials were not trampled by residents, and that plowing has not significantly altered the deposits. Our current interpretation is that the house structures of Native Alaskan families and inter-ethnic households were abandoned, filled in, and then used as work areas and refuse dumps in which faunal remains, native Alaskan artifacts, Kashaya Pomo artifacts, and European materials were deposited. Detailed analyses of these materials are now on-going at the ARF. The research is greatly facilitated by collaboration with Kashaya Pomo tribal scholars, including Otis Parrish, Vana Lawson and Violet Chappell, and with the Kodiak Area Native Association of Kodiak Island, Alaska. A monograph on the Native Alaskan Village Site is planned for publication in the ARF Contributions series in 1994/95. It will be the follow-up volume of the 1991 publication, The Archaeology and Ethnohistory of Fort Ross, California (ARF Contributions No. 49 - Available Online).
---
Patrick V. Kirch
This is the inaugural issue of "Berkeley Archaeology," a newsletter published by the Archaeological Research Facility on behalf of the scholarly community of archaeologists at the University of California at Berkeley. Besieged as we all are these days with seemingly endless paper, one might reasonably ask, why another newsletter? First off, the archaeological community at Berkeley spans a number of departments and research units, including the Anthropology, Art History, Classics, Geography, History, and Near Eastern Studies departments in Letters and Science, as well as the Hearst Museum of Anthropology, and The Center for Slavic Studies. Faculty collaborating on archaeological research projects are also found in Soil Science, Integrative Biology, Geology, and Molecular Biology, as well as at the Lawrence Livermore National Laboratory. With such a dispersed group, the ARF serves an important function of providing a forum where all faculty and students with interests in archaeological research can periodically meet to share ideas, results, and concerns; the Newsletter will help us to better serve this function.
In addition to providing a vehicle for sharing information among members of the Berkeley archaeological community, we intend that this Newsletter will also keep our associates, colleagues, and friends who reside elsewhere informed about our projects and activities. We are especially interested in using the Newsletter to maintain ties with our former students-both undergraduates and graduates-many of whom we know continue to share an interest in what we are doing here at Cal.
At Berkeley the field of archaeology encompasses a diversity of approaches-ranging from classical archaeology to paleoanthropology-and our geographic scope is worldwide. Current excavations or surveys being carried out by ARF faculty members include sites throughout the Mediterranean, in France and Bulgaria, in China, on several islands of the Pacific, in North America, in Mexico, Guatemala, Peru, and Bolivia. Berkeley archaeology faculty constitute an internationally-recognized group of scholars, including several members of the National Academy of Sciences, and the American Academy of Arts and Sciences, among other honors. Conveying timely reports on the work of these distinguished archaeologists to the scholarly world at large is one aim of our new Newsletter.
Initially, we intend to produce two Newsletter issues per year, in the spring and fall. We urge all members of the Berkeley archaeological community to submit reports of research, news releases, information on new publications or conferences, and other materials for publication. We also welcome any suggestions for improvements to its contents or format. I look forward to hearing from you.
---
Berkeley Archaeologists Receive High Ranking
The Society for American Archaeology recently published the results of the first survey of the "top-10" archaeology programs in U.S. universities. The survey focused on archaeological programs situated within anthropology departments, and did not include archaeologists in such fields as classics or geography. In the SAA survey, the Berkeley program consistently ranked 3rd by all categories of respondents. (The numbers 1 and 2 ranks were held by the University of Michigan and the University of Arizona, respectively.) The survey considered a number of factors, including the reputations and quality of faculty, scope of research, support for graduate students, library and laboratory facilities, and other variables. Given that Berkeley has only 6 archaeology faculty in its Anthropology department, and that financial support for graduate students has lagged behind other top research universities, it was all the more impressive that the Berkeley program out-ranked such well-endowed institutions as Harvard, University of Pennsylvania, or the University of Chicago. Berkeley faculty members who were asked about the survey results expressed pleasure at the news, tempered by concerns that the current budgetary crisis could threaten to erode quality.
---
Mangaia Project Reveals 7,000 Years of Ecological Changes to Island
The Mangaia Archaeological Project, headed by ARF Director Prof. Patrick V. Kirch, has yielded a mass of new information on the nature of ecological changes on this central Polynesian island during the past 7,000 years. Funded by a $116,000 grant from the National Science Foundation, the project involves an inter-disciplinary team organized by Prof. Kirch, that includes geomorphology, palynology, avian paleontology, palaeoethnobotany, zooarchaeology, and ethnohistory, in addition to conventional archaeological approaches. The overall goal is to track a range of environmental and cultural variables on this circumscribed island ecosystem, spanning the period before and after colonization and settlement by the prehistoric Polynesians, in order to assess the impacts of humans on the insular ecosystems of Oceania.
The Pacific Islands were among the last places on earth to be discovered and settled by modern humans. Although early humans occupied the near islands of Melanesia by 40,000 years ago, the remote and isolated Polynesian islands did not receive humans before about 3,000 BP. Prior to this time, these islands had no large vertebrate predators, and indeed the only vertebrates to reach their distant shores were birds. These along with a host of plant, insect, and other invertebrate life evolved in isolation, making the Polynesian islands a virtual laboratory of evolution. Indeed, it was the lessons of island biology that helped Darwin and Wallace work out the principles of evolutionary theory.
The Mangaia Project team has conducted two seasons of inter-disciplinary research on the island, in 1989 and 1991, and the first sets of results are now appearing in various scholarly journals. Stratigraphic cores in all of the island's alluvial basins have exposed a very detailed sedimentary, geochemical, and pollen record which shows that humans first began having a serious effect on the island's environment about 2500 years BP. This effect is marked by major influxes of charcoal, by decreasing tree pollen, and by increases in pyrophytic ferns and shrubs. These vegetation changes are interpreted as resulting from shifting cultivation on the interior volcanic hillsides, which ultimately became highly eroded fernland (the present situation).
The Project has also included archaeological excavation of a major rockshelter, called Tangatatau, with a well-stratified sequence spanning the last thousand years of Mangaian prehistory. This site has yielded a large assemblage of artifacts including stone adzes, shell fishhooks, bone tattooing needles, and other objects, as well as large collections of faunal and floral materials. Included among the carbonized plant remains are the oldest documented fragments of sweet potato (Ipomoea batatas) from Polynesia. A South American plant, the sweet potato was evidently transported from South America into Polynesia in prehistoric times.
---
Archaeology of King Solomon's Harbor, Tel Dor, Israel
Andrew Stewart
Archaeology of King Solomon's Harbor, Tel Dor, Israel, seventh season, 1992. A welcome influx of volunteers enabled us to re-open excavation in both the Temple and Forum areas; our season was the most exciting ever. In the Temple area (F), we opened new squares above the northern entrance to the sanctuary and on the remains of the temple floor itself, both left unexplored by John Garstang in1922-23. Ten unpublished photographs of his, recently located in the archives of the Palestine Exploration Fund in London, helped us greatly while revealing how much knowledge has now been lost through his slapdash methods and through subsequent robbing of the site.
The entrance-complex (F2) turned out to be the mirror-image of that in the south (F1), excavated in 1986-89, though much to our surprise, the earlier orientation of the city in this area was at a 45° angle to its southern counterpart. The temple floor yielded lamps and other pottery of the second century C.E.; together with our earlier seasons' work, this material suggests a Hadrianic or later date for the entire complex, barely one century before the tel itself was abandoned and the city moved half a mile or so north. Further excavation and registration of the temple's architectural fragments showed that it was the largest pagan temple (ca.18 x 56m) so far discovered in Israel. It was exceedingly narrow, with an imposing porch at least six columns wide and three deep; beneath its floor, house-remains dating from the Iron Age to the early Roman period show that no previous cult-site underlay its northern end at least.
In the Forum/Agora area (G), we focused our efforts on revealing more of the Iron-Age town uncovered in 1987-1991. It was here that we made our most spectacular finds to date: two massive destructions separated in time by around 100 years. The earlier, a pure Iron I destruction of ca. 1100 B.C.E., was extremely violent; one to one-and-a-half meters of burned deposit, including collapsed floors and many in situ artifacts, testify to a huge fire, perhaps of human origin. Its date and contemporaneity with similar destructions in the Gate and Temple areas (B1 and F1) suggest that it may be the Phoenician destruction of the settlement founded by the Sea-Peoples (Sikels) after their defeat by the Rames III around 1185 B.C.E.
The later destruction, on the Iron I/IIA borderline around 1000 B.C.E., remained an enigma until the very end of the excavation. Although several rooms full of collapsed mud-brick, in situ pottery, and metalwork had suggested that we were looking at a single event, it was not until we discovered a skeleton lying beneath the remains of a collapsed stone wall that our hypothesis was proven correct. The individual, a woman around 30 years old, was probably Phoenician. Her position and injuries, together with the Phoenician pottery, a stag-antler, and food refuse around and under her show that she was taken by surprise and killed by a catastrophic earthquake while in her pantry. We must now widen our exposure in order to learn more about this event, and search the records of other excavations in the area (Megiddo, Beth-She'an, Hazor, etc.) to see whether similar destructions there, usually attributed to king David's armies, might not be reassigned to this event. If so, current theories about the character and chronology of Israelite expansion in the North may well require considerable re-evaluation.
---
The Archaeological Research Facility was founded in 1948 by Robert Heizer, as the California Archaeological Survey. Throughout the period of Heizer's tenure as director, the ARF was actively engaged in facilitating field projects, and in publishing the results of primary field and laboratory research through the Contributions series. The current director, Patrick V. Kirch, is carrying on this tradition, making the Archaeological Research Facility a vital organization supporting research and publications. The ARF also hosts various seminars and speakers throughout the year. Presently, 26 UC Berkeley faculty members from twelve departments and organized research units actively participate in the Facility's programs. The facility is supported by the Provost for Research as well as through donations and sales of publications. Your tax-deductible donations are appreciated!